Anal Rejuvenation in Los Alamitos
Our Los Angeles anal rejuvenation for cosmetic reasons is becoming increasingly popular in America. As one of the most sensitive areas of the body, the anus is particularly prone to damage. Many cosmetic concerns regarding the anus stem from medical problems, such as:
Anal tags
Anal warts
Abscesses
Fistulas
Fissures
Skin folds
Polyps
Hemorrhoids
Dr. Murrell uses minimally invasive and non-invasive techniques to improve both function and appearance of the anal area. Treatment may include a procedure to tighten and strengthen the anal sphincter. Anal reconstruction may involve injections, infrared coagulation, or traditional surgical techniques. Procedures are performed in-office or in our state-of-the-art surgery suite.
Anal bleaching may be recommended for some patients who want to pay particular attention to the appearance of the anus. This procedure is performed to lighten pigment around the anus that has become darker as a result of aging, pregnancy, hormonal changes, or genetics.
An anal bleaching procedure is exactly as it sounds. Dr. Murrell applies a bleaching solution to help lighten the skin around the anus and make the color more uniform with the surrounding areas. Depending on skin tone, more than one treatment may be needed to achieve optimal results with anal bleaching.
Quality Care for Colon and Rectal Conditions in Los Alamitos
Zuri A. Murrell, M.D. has extensive experience and a history of outstanding results performing colonoscopy, anal rejuvenation, and minimally invasive colorectal surgery procedures. He is well-known and respected among both his patients and his peers for his advanced knowledge, surgical skills, and excellent results.
For a skilled, dedicated, and compassionate colorectal surgeon in Los Alamitos, schedule a consultation with Dr. Murrell. After a one-on-one consultation and careful examination he will tailor an individual treatment plan for you.
Top Colorectal Surgeon in
Los Alamitos
Zuri A. Murrell, M.D. serves as a trusted Los Alamitos colorectal surgeon. He has been featured in Los Angeles Magazine for having won the prestigious Top Doctor Award for Colon and Rectal Surgery in 2015 and 2016. He has been featured recently on the Hallmark Channel to discuss recognition, treatment, and prevention of hemorrhoids.
Dr. Murrell is Director of the Cedars-Sinai Colorectal Cancer Center in Los Angeles. He has conducted numerous research studies and is at the forefront of innovative technology in the field of colon and rectal treatments. His advanced skills, extensive training, and excellent results qualify him as a leading colorectal surgeon in the U.S.
Minimally invasive techniques in colorectal surgery have been proven effective with significant benefits for patients. They require only a few tiny incisions, as compared to one long incision in traditional surgery. Dr. Murrell focuses on minimally invasive and non-invasive procedures. He provides a convenient Los Alamitos location, experienced staff, and personalized care for his patients.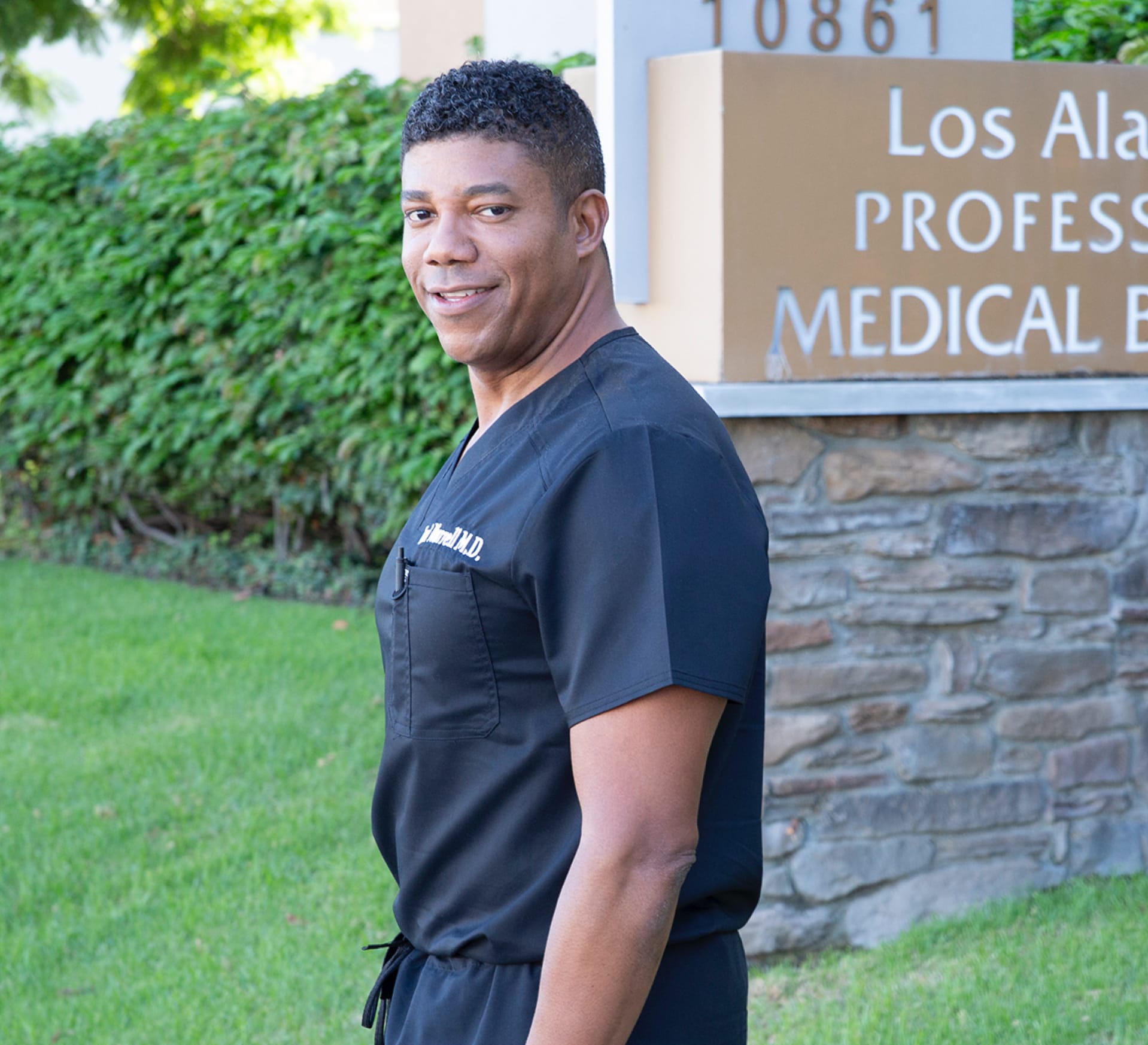 Los Alamitos
Los Alamitos is a small city in Orange County, California, incorporated in 1960. The name means "the little cottonwoods" in Spanish. It was inspired by the clusters of cottonwood trees seen by Spanish explorers more than two centuries ago.
The land that is now Los Alamitos is part of a large Spanish land grant to Don Manuel Nieto in 1784. Upon his death, the land was divided into 5 large ranchos and deeded to Don Nieto's children. The Los Alamitos rancho, granted to Juan Jose Nieto, was originally 85,000 acres. Juan Jose Nieto sold the land to Mexican California Governor Jose Figueroa for $500.
By 1881, through the sale of parcels, the Los Alamitos rancho had been reduced to 28,087 acres, 5,000 of which were set aside for a township. Former Senator William Clark of Montana purchased 8,139 acres of rancho land in 1897 for growing sugar beets. Senator Clark planned the township and built the first sugar refinery in California in Los Alamitos.
While the sugar mill prospered, Los Alamitos became a typical Wild West town. There were 2 hotels and an average of two shootings or stabbings every weekend. Regan Street was the main road through town until Los Alamitos Blvd was blacktopped in 1921-22.
Burrowing insects (nematodes) destroyed the sugar beet industry and ultimately closed down the refinery. In 1921, the refinery was leased to a Dr. Ross who used it to process dog food from wild horse meat. The Great Depression and the earthquake of 1933 brought Dr. Ross's enterprise to an end, and the mill was eventually demolished.
On March 1, 1960, the township became a chartered city. Los Alamitos still embraces a small town ambiance. It offers excellent parks and recreational facilities, friendly neighborhoods, outstanding schools, and a strategic location at the crossroads of two major freeways.